One of the pathological lies this pathological lying Clinton told America is that she was named after Sir Edmund Hillary who had conquered Mt. Everest – in spite of the fact that no one had ever heard of the guy prior to that conquest of Everest in 1953 whereas Hillary was born and named in 1947.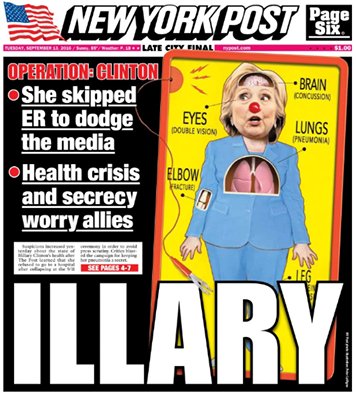 But let's call her by a different and more fitting name: ILLary.  Because she is a sick, sick puppy in more ways than one.
It's truly amazing.  Hillary Clinton goes from having more proof than ever that yes she SHOULD have been criminally charged over her national security violations with her secret private server designed to bypass transparency and accountability laws, to proof that she was using her Clinton Foundation as a quid-pro-quo pay-to-play machine, to her vile remarks demonizing Trump supporters as racist and every other hateful thing, to this.
Hillary claimed her health was an issue in her FBI interview when she claimed she couldn't remember 40 damn times.  I have to remember next time I decide to rob a bank to use the Hillary excuse just in case I get caught red-handed: "What's that?  I robbed a what?  I don't remember.  I fell and hit my head on something.  I didn't intend to rob any banks."
We now know that the Obama FBI never even CONSIDERED destruction of evidence (destroying 33,000 emails and 13 smart phones and five iPads); obstruction of justice (destroying aforementioned emails and devices AFTER learning that they were under active congressional subpoena); or lying to Congress – all federal crimes.  This "investigation" was a whitewash from long before Attorney General Lynch illegally secretly met with Bill Clinton (ostensibly to discuss one another's children?!?!?).  Nor did the FBI ever consider the numerous crimes committed through and via the Clinton Foundation that was so comingled with the State Department under Hillary Clinton that the two organizations became ONE.  Nor did the FBI ever bother to question how it was that a private contractor with zero security clearance was allowed to wipe and bleach a server loaded with above top secret national security information without ANY security clearance AT ALL???
Nothing to see here, folks.  We've got nothing to hide!  NOTHING!!!  Well, except for that giant pile of stuff we had to hide that we destroyed, but now that it's all gone, nothing to hide!!!
And now we learn that the FBI under Obama is doing its utmost to STONEWALL Congress and deny them the material that they have not only a right but a constitutional DUTY to examine.
The Obama FBI asked, "How can we help you obstruct justice?"  And Hillary said, "Oh, well, I'm glad that you asked!"
So let's go from the FBI freak show to the media freak show and ask whose campaign is constantly depicted as being in meltdown?  Who is constantly framed as being unfit for the office of president?  Donald Trump.  It's amazing.
So in this latest installment of God proving that Hillary shouldn't be anywhere CLOSE to the White House, let alone in the Oval Office, Hillary Clinton has not one but two savage coughing spasms last week.  Everyone was talking about it – you know, everyone but the mainstream media that in typical Stalinistic fashion refused to cover it.  If they did bother to talk about it, they cited the Clinton campaign line: coughing is no big deal, everybody coughs.  And it's not like her cough means she has anything bad.
Okay.  So what happens next I paraphrase these guys in describing:
So Hillary Clinton – on 9/11, the anniversary of the day when you're supposed to show STRENGTH – actually FAINTED and COLLAPSED, was grabbed by her Secret Service people, and as she's falling down trips over her shoe and her shoe falls off.  So there's this pathetic picture now of Hillary Clinton's lone shoe just over by the curb.  Again, you couldn't script it better than this.
Remember George W. Bush's bullhorn speech moment?  Do you remember the crowd of first responders taking courage from their commander in chief and cheering him as he delivered the greatest speech of his presidency?  That was his 9/11 moment.  And he passed.
Hillary Clinton had her 9/11 moment.  And she fainted and collapsed and her shoe fell off and she was grabbed and hauled away and her team lied and then lied again and then lied some more and are probably still lying about what the hell she has.  And she failed.
It's like that 3AM moment she ran in her ad against Obama, and then Benghazi came and her phone rang and rang and rang until she unplugged the damn noisy thing and not one damn thing was done to stop four Americans from perishing while defending American soil on her watch.
Then the Clinton capacity for being the worst liar who ever lived started.  Except for the media, where it had ALREADY started when they were confined and forced to stay in their little sheep pen for and hour and a half.  We'll talk about that in a minute.
The story was first spun by the Clintonian campaign spinners that she just left because of whatever-the-hell miscellaneous reasons. She had another event to attend, some dry cleaning to pick up, whatever.  Anything but that she was starting to have a major health crisis and absolutely could not remain at the ceremony.  And that was the official Stalinist position from the campaign: until it was FINALLY admitted by her dishonest and fascistically secretive staff that there might be a teensy, weensy little health issue. But even then they didn't tell the actual truth.  That cannot happen when you work for a Clinton.  So the first issue they offered was that she was "overheated."  The week before New York had been warm, so why not float the global warming claim?  But heck, it was 80 degrees that 9/11 anniversary day, with perfect humidity. And the fact that she was overheated was like the drug-addict starlets who are "exhausted" and so go to a rehab center, right? So that was unbelievable. So next they said she was "dehydrated." No.  Just no.  Well, okay how about this one: it was allergies. Which is like the one where she had pollen-induced coughing spasms indoors with all the AC and the filters running. So she's no longer overheated, or dehydrated, or allergic, or whatever the hell; nope, now its something else. What?  Well, she had pneumonia, which we're finally told she'd had for days without anyone bothering to notify the media that they'd kept behind a line for 90 minutes at the scene of the collapse.
The media couldn't report the true story.  Because the aforementioned fascistically paranoid and secretive Hillary campaign kept them "confined to a media pen."
Hillary Clinton's campaign left reporters in the dark for a full 90 minutes about her health and whereabouts on Sunday after she unexpectedly left a 9/11 memorial event in New York. It took most of the day to disclose that Clinton was diagnosed with pneumonia nearly three days earlier and wasn't simply "overheated," as the campaign's initial statement on Sunday said.

The campaign's limited and confusing disclosures frustrated reporters who cover Clinton and seemed to play into health rumors that have been promoted by her Republican opponent, Donald Trump, and his surrogates and touted in conservative media outlets.

Pool reporters — those who follow the Democratic nominee into restricted spaces and provide reports to other reporters — never saw her leave the commemorative event at the World Trade Center complex in Lower Manhattan and then apparently collapse into a van. The pool was confined to a media pen out of sight of Clinton's location. Footage of her halting departure was captured by a bystander, Zdenek Gazda, who noticed her being helped to the vehicle.

The news appears to have been broken Sunday morning on Twitter by Fox News reporter Rick Leventhal. Citing an unnamed source, Leventhal tweeted at 9:42 a.m. "Hillary Clinton 'clearly having some medical episode' & had to be helped into van by her protective detail at WTC."
You know, just like the gullible little sheep they are whenever the candidate they are covering is a fellow liberal.
Did you get that?  The Hillary Campaign tried to prevent the media from learning the truth as they lied and lied some more, but a bystander with a phone allowed us to know what no journalist could or would report.  The press was literally CONFINED to the pen and NOT ALLOWED TO LEAVE.
And yeah, it finally took the hated Fox News to break the damn story.  And every Democrat hates Fox News because every Democrat has a pathological hatred of and contempt for the TRUTH.
So what does Hillary's staff do?  She is grabbed and pushed into the van after collapsing and they take her where? The hospital? No. They take her to her daughter's place. Maybe because there is a full-fledged medical facility there? They would have needed an X-Ray to definitively diagnose her pneumonia they now say she has. And they pump her full of whatever and she's out hugging children with pneumonia.
I mean, I remember that's pretty much what I did when I had pneumonia: try to pass it on to a child.  Stupid snot-nosed punk kid had it coming.
You cannot accurately diagnose pneumonia – let alone what type of pneumonia somebody has – at your daughter's apartment.  If Chelsea Clinton's apartment has a full barrage of medical equipment, that means that every single Clinton campaign member including her personal physician are intentionally trying to perpetuate a gargantuan lie about the appalling lack of fitness to be the commander in chief.
Now there's one theory that doctor's have offered: about a month back, a doctor offered Parkinson's.  And offered the explanation in a tightly, cogent reasoned medical case.  And one of the leading causes of death from Parkinson's is complications from pneumonia.  And now more proof than ever: Hillary was wearing those anti-seizure glasses, she's been having coughing fits, her throat is messed up, she's having trouble swallowing.  ALL critical symptoms of Parkinson's.
Oh, and by the way, she was wearing her favorite pair of blue, anti-seizure, anti-epilepsy sunglasses throughout the event.  Because that woman has some awful problems without them.  And oh yes she sure does.  And I mean Major League Big Time.  There was another moment I can't locate now in which her eyes fixated and locked on a demonstrator and she had to be physically turned away by a staffer.
This woman is having seizures, something that apparently happens fully half the time somebody does what Hillary Clinton admittedly did by passing out, hitting her head, and suffering a serious concussion:
She's got a colostomy bag to prevent her from drooling poop all over the floor.  Although others have speculated it could also be a catheter bag to keep her from pissing all over the floor.  In any event, there are abundant pictures of her hiding something under those pantsuits she always wears.  She is clearly trying to conceal medical devices.
She has to CONSTANTLY be physically held up to keep from collapsing.
One of the more terrifying theories is that she is suffering from something called "vascular dementia."   Not only would she not live out her presidency, but she would be a whackjob before she died.
This is worse than the Manchurian Candidate, I'm telling you.  And the most terrifying thing of all is that every single "journalist" is in on the betrayal of America.
You want to tell me I'm believing "conspiracy stories."  Well, I'll tell you WHAT: when you destroy 33,000 emails and you physically destroy 13 phones along with other devises, my conspiracy theory is the TRUTH unless and until you produce the evidence you destroyed to prove otherwise.  Especially when that stuff was under direct subpoena when you destroyed it.
Even lifelong liberal media turds are growing scared:
Monday on NPR's "Morning Edition," ABC political commentator Cokie Roberts offered her thoughts on the apparent health issues regarding Democratic presidential nominee Hillary Clinton and the how the party could be looking to handle things if a replacement is needed for Clinton.

According to Roberts, there was already conversation within the party about such a possibility.

"The fact that it comes now when the polls are tightening and Democrats are already saying that Hillary was the only candidate who could not beat Trump and it is taking her off of the campaign trail, canceling her trip to California – it has them very nervously beginning to whisper about having her step aside and finding another candidate."
Hillary Clinton has no business whatsoever being president.  It was obvious like FOREVER ago.  And it's just kept getting more and more and more obvious.
And you were wicked fools for making her your candidate.  And that's why you DESERVE Donald Trump.
As poor as Hillary's health obviously is – and it is obvious that it is terrifyingly BAD and she has surrounded herself with sycophants to shield her from people knowing the damn TRUTH including with one of her sycophants masquerading as her personal physician – that is not her primary disqualification.
It is not her sick health, it is her sick character, and yes, in this health crisis, it just got revealed AGAIN: her campaign trotted out four not just lie but damn-lie stories about her health crisis and that is why we have absolutely ZERO reason to believe the last iteration they offered.  It's her pathologically dishonest character; her deceitfulness, her deceptiveness, her truthlessness.  She has simply over and over again in large ways and small ways proven that she cannot be trusted because she is literally incapable of telling the truth about ANYTHING.
Hillary Clinton is unfit for the presidency by any standard under the sun.
You know, I can't help but remember the REAL day of 9/11, when Muslims – yes, fool, MUSLIMS in the name of ISLAM – attacked America.  And I remember hundreds of people throwing themselves out of the burning World Trade Center towers to their deaths, with the choice of either being burned alive as Obama's Islamic State does to victims or being pulverized by the impact onto concrete from a thousand foot fall.  And I realize that if that attack were to happen again, Hillary Clinton, just like Barack Obama before her, would do NOTHING.  There would BE no "war on terror."   Instead, Hillary Clinton would demand that millions of more Muslims be brought into America.
I think of another 9/11, and our president can't even walk without falling or feinting, let alone LEAD.
I googled the footage of people throwing themselves out of the World Trade Center and my moral outrage erupted anew.  But that is only because I have morality.  And no Democrat has had morality for fifty years.
And that's why the beast is coming.